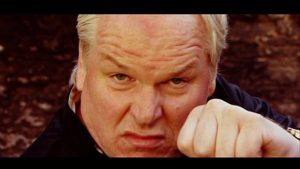 Sly News cunt anchor Adam Boulton has shut down Ex-chief superintendent Kevin Hurley, a former Scotland Yard chief, for daring to tell the truth and state that Black Lies Matter is deliberately stirring up a false anti-police narrative.
Hurley, who deserves hero recognition for his bravery in standing up to far left bullshit said senior figures in the movement were waging a 'misinformation' campaign to 'destabilise and disrupt' society.
He also suggested the ugly clashes in Brixton on Wednesday night were products of Afro-Caribbean single parenting and said constables had 'given up' enforcing the law on young black Britons for fear of jeopardising their careers.
He added: 'We've got into a vicious circle with police officers dealing with young black people, who always come to the perspective that the police are trying to suppress them. And the police very quickly come to learn that dealing with young black people is quite frankly aggravation that puts their careers and mortgages at risk.'
'That's the reason why so many black youth are killing each other in London, because the police have given up trying to stop them carrying knives and guns and killing each other.' Hurley also said that 'this is not a BAME issue, this is an issue relating to people of West African heritage in terms of the relationship between the police and the public'.
Hurley then delivered the statistics to back up the facts; 'there's an awful lot of misinformation going on about police killing black people in custody. Last year 16 people died for various reasons in police custody – largely from drug overdoses – of those 16, only one was black. Last year the police shot three people dead – only one was black. There is a narrative going on here, I think driven by people within the Black Lives Matter movement who want to destabalise and disrupt society.'
But as he went to start another sentence cunt Boulton suddenly interjected: 'Ok we're going to have to leave it there, thank you very much indeed,' and the video feed to Mr Hurley was cut off.
Obviously Sly News did not want to air 'uncomfortable' opinions, especially ones containing actual statistics that don't agree with their narrative and resorted to the familiar left wing tactic of deplatforming. Sly News declined to comment.
Sly News don't make it easy to complain. However, on ceomail.com you can find Mr Jeremy Darroch's details (Chief Executive of Sly) including his email address: jeremy.darroch@bskyb.com
Get cunting and get complaining fellow ISACers.
Nominated by: Four Eyed Cunt