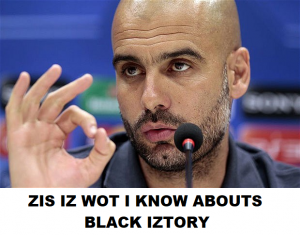 An 'I wish I'd never been born' Rick from the Young Ones style cunting for another sporting gobshite.
Yes, millionaire manager Guardiola, touted as the world's best manager (as long as he can manage the team with the most money and best players in any particular league) gave a bizarre self flagellating post match interview this week. He said he's 'so ashamed' of being white and for the injustices faced by blacks for 400 years. Some would argue that this swarthy, sweaty Mediterranean type isn't even a proper honky man anyway, so he can relax. However, Pep is beside himself with shame over this. May I suggest suicide? Seems like the only thing to do for those who hate their own skin and feel they share guilt with others based solely on skin type.
Of course, if those of another hue commits crimes such as a terror attacks or take part in grooming gangs, then there is no shared guilt here and certainly no introspection. As soon as such a thing happens, the media will show an isolated example of a good deed by a darker person to show us that we're racist for getting annoyed. The thing is Pep, the world was a harsh place 400 years ago. You were lucky to see 35. No electricity. No sanitation or medical care of any note. To make things a little easier, tribes and nations would take from another. It was essential to do so as others would do it to you anyway. And guess what? The honky man won. The others should've fought better instead of moaning. It's called history. Get over it you sanctimonious twat.
And does this clown think blacks in Africa sat around singing kumbaya and sharing their harvests with others? No, Pep. They had slaves and butchered other tribes too. Oh, and it's still going on, particularly in Sub Saharan Africa. Where's the black guilt?
Finally, his club is owned by a bunch of Arabs from the UAE. Quite a bit of modem slavery going on there, Pep. Got anything to say, seeing as your owners' money is paying your ridiculous salary? And will he have anything to say during the World Cup in Qatar, during which most of his players will take part, I'm sure? Qatar remember, has seen thousands of slaves die in constructing the stadiums.
Get to fuck!
Nominated by: Cuntybollocks