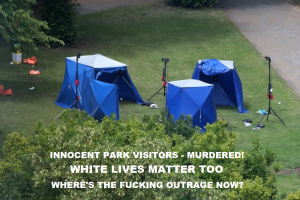 A White Lives Matter cunting please for the bastard who claims to be from Libia, but had designs on going to Syria (known to the authorities) who ran amok in a Reading Park on June 20th stabbing 3 men to death and seriously injuring others.
https://www.bbc.co.uk/news/uk-53129046
The authorities admit to it being a terrorist attack, a pity they didn't shoot him to save the expense of a trail and the enormous amount of money his ineviatble appeals cost and his lengthy stay in prison.
But – where is bleeding heart Kweer Charmer, the whinging wimmin of both genders in his party, or the countless Labour and Conservative MPs who bent the knee for the shady little perp in America George Floyd – come to that where are all the students with too much time on their hands, the Cuntbook Virtue Signallers, the Wireless 4 middle class handwringers, the PM, Today and World At One "agenda setters". Not a word of condemnation. Of course all the victims were white, male and middle-aged.
This is Britain in 2020 – not nice is it?
Nominated by: W. C. Boggs