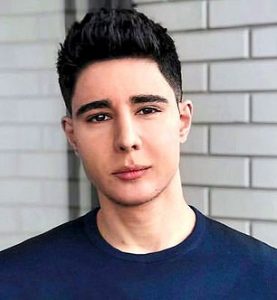 OMID SCOBIE:
Please put that fairy cake down and raise a glass of soya milk to toast young Mr. Scobie, who looks a right jessie, who has been "responsible" – I use the word losely, you understand – for all the crap we have been reading about Mrs. Hewitt in recent times:
https://www.dailymail.co.uk/news/article-8257177/Prince-Harry-Meghan-Markle-interviews-two-journalists-writing-flattering-biography.html
What is it about royal-by-marriage commoners that they feel they have to reveal all to nancy boys?. Diana did it with Andrew Morton and Paul Burrell, the florist, formerly her rock. Now the Markle tart has done it with this mincing heap of shit. Look at the wanker – he looks about 15, and should have been out playing with Gary Glitter rather than worrying his little head about affairs of state.
Coronavirus and a spoilt over-priviledged half-caste tart feeling sorry for herself 0 and they wonder why newspaper sales are down. Fuck off Scobie duckie/
Nominated by W. C. Boggs