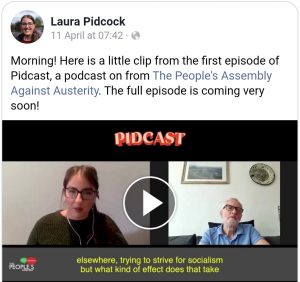 Can I request a colossal waste-of-bandwidth cunting for PIDCAST?
Yes cunters, fresh from having managed to fuck up a parliamentary majority of 9000 in North West Durham, a Labour seat since Pontius was in flying school, instead of getting a proper job Piddlecock has resurfaced as the National Secretary of The Peoples Assembly – 'who they' you ask? Well, I'll tell you: a collection of cunts who think that fucking austerity off and pissing money away on the indolent scrotes who won't graft but do want beer and money is a good idea. As I say, cunts.
Anyway on with the cunting. The lovely horse-faced Laura has weaseled her way in to a tidy little number and her first effort is to start up 'Pidcast' and interview our old favourite: Magic Grandpa! Ta da!
It fucking astounds me how these cunts just cannot get the message – still giving the scruffy old cunt a voice instead of leaving him in the toilet of failure that he so expertly flushed himself down. Obviously her gusset will be damp from the excitement of whispering her fawning slaver to her messiah & no doubt she'll be thinking how good his wrinkled old cock would have felt up her gary glitter had the Red Flag flown over No10, but for the rest of us it's a fucking drain on the dwindling bandwidth available, now that all the 5G masts are burnt down.
La Piddlecock is, amd always will be a cunt …and so is her Pidcast.
Nominated by The Stained Gusset