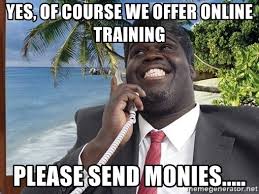 It's time for my compulsory annual GDPR online training course, after which completing, I shall destroy my workstation with a hammer and kill the next three layers of management. It's that fucking bad. The brain bleeds at the sheer unnecessary waste of time and cognition required to click through the pages and sub-pages of jokily illustrated guff….illustrated, yes, with cheaply animated pictures of ethnic wimminz with watermelon smiles, in office garb, haunting every single fucking page. Obligatory, that.
Assembled by an external consultancy no doubt making millions from this utter waste of time. Millions urgently needed elsewhere in my organisation, in my area of which necessary funding has dried up completely.
Do I have access to sensitive personal data? Do I fuck. I'm not management. None, zilch, nada. Do I need a detailed description of the law as it applies to free ballpoints with the customer's name on?* Are any of my colleagues coloured? No. Are bad actors fully trained in the art of extracting data from networks without my accidental help? Yes. And they didn't need to do this shit course either.
Allow me to cunt the gradual replacement of on-the-job commonsense by online "training" courses sold to gullible management suits by corporate scammers, to the frustration of the victims and to no useful end whatever.
* I made this up, but you get the idea.
Nominated by Komodo