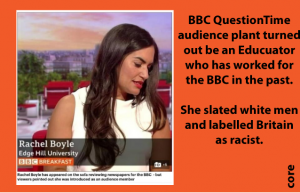 Rachel Boyle, that chip-on-shoulder merchant again. This tiresome race baiter, who clashed with Laurence Fox over Markle says, 'I've had to grow a pair'.
Speaking at another event about racism in Britain, she said, "The last month of my life has been transformative. I have had to grow a pair. I had them but I have had to exercise them. White people have no idea as to the privilege their whiteness affords them", she told the audience at University of London. Boyle said Meghan Markle joining the royal family had been a "pivotal moment" for her.
She added: "Meghan is one of the ways I see myself in society. It was a pivotal moment because anyone else who looked like us either sang songs or kicked footballs."
I have no issue with anyone,regardless of colour, religion or sexual persuasion, as long as they don't have an issue with me, but just stop your incessant fucking moaning about how hard done by you think you are.
Nominated by Mystic Maven