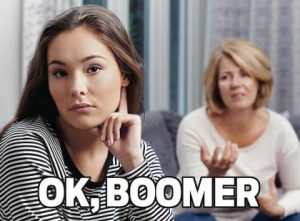 Used by millennials, usually in lieu of a coherent argument, this phrase is typical of the born entitled, mollycoddled wankers that consider themselves the enlightened future of humanity. This insult, along with gammon, is aimed at anyone who expresses an opinion that dares to challenge their blinkered outlook, which was forged by poor quality lefty teaching, and fed daily by social media, especially the cunt trumpet that is Twitter.
These cunts are envious of the generation that bought their own homes, blaming them for not being able to afford a home of their own. Of course, it has nothing to do with them paying £3 for a cup of coffee and having four-a-day, package holidays every couple of weeks, and spending a week's wages on a shirt they wouldn't be seen dead in twice. I'm not a boomer, but my parents are, and they worked hard to buy their little house, my dad working twelve hour nights for twenty-five years, and the only holidays we had were damp campsites in Devon, not the Costa del Cunt. OK boomer? Fuck off, you clueless cunts.
With the distant scent of war in the air, the only upside to a full blown conflict would be seeing these cunts conscripted into cannon fodder battalions, sent into battle by some modern day Haig, who would probably be a 'boomer'…..
Nominated by Gutstick Japseye