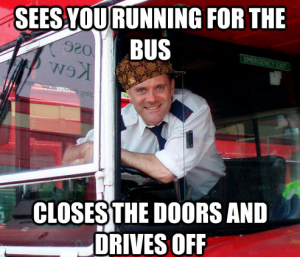 A Stan Butler cunting please for the cunt driving the double decker yesterday, who after clocking my ambulance, (I KNOW you fucking saw me as I made eye contact with you in your mirror), lights and sirens on, going down the middle of the road towards a traffic island, moved his fucking bus forwards to stop me getting in front. The queue of traffic waiting at the traffic lights both ways meant I couldn't go around the opposite side of the island.
You monumental selfish cunt.
If it hadn't been a fucking CAT 1 call we would have stopped and inserted a fucking oxygen cylinder up your jacksey and connected you to the de-fib to STOP your fucking heart, you total plutonium grade wank-stain. On the plus side, the CCTV footage from the cameras we have on all vehicles will be making it's way to the police and your bosses. Just one question – Why? You are a fucking disgrace.
Good evening.
Nominated by DCI Gene Cunt