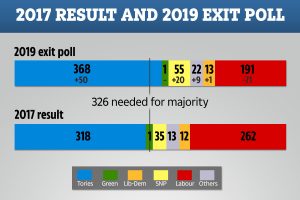 Good morning Cunter's.
Your chances to make your point on this Democratic shit fest, admittedly labour started off on the wrong foot (or two miss matched left ones) Conservatives were being butchered by the Media.
The Lib dems, well lets not go there and the Brexit party broke down into in fighting.
As far as the Press is concerned this has been hailed the largest labour loss since 1935 (incidentally the date of the rise of fascism in Europe, so expect Lilly Allen to start banging that drum)
On the brighter side I note that Dianna Abbot has received over 39,000 votes, I like to think that I am a little more intelligent than her so, statistically that makes me cleverer than at least 39,001 inhabitants of this island.
Carry on Cunting!