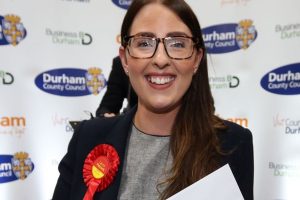 A nomination for the amusingly named Labour MP, Laura Pidcock.
In launching her campaign to be returned as Labour MP for North West Durham, the insane Pisscock said the following about Comrade Compo –
"I know it has been a long time coming, but we are on the path to justice. And because people know that it is perfectly possible that Jeremy Corbyn could be our prime minister, you can be sure that absolutely everything, absolutely everything, is going to be thrown at us in the next few weeks. People will say some of the most hurtful things about our people and our communities and our political representatives. PLEASE FORGIVE THEM, PLEASE FORGIVE THEM, FOR THEY KNOW NOT WHAT THEY DO".
So there you have it. In Pisscock's warped world view, Compo is on the same level as Jesus Christ, to the extent that the words spoken by Jesus on his way to crucifixion are directly applicable to Compo.
Putting aside the question of blasphemy which I expect the Libtard leftist Church of England to ignore as the speaker was not a Conservative, quite frankly I hope that Compo is on the path to crucifixion. But to suggest a parallel between Compo and the messiah of Christianity demonstrates apocalyptic self-righteousness and tone deafness to an extraordinary degree that it's quite frightening.
What a stupid cunt.
Fuck off.
Nominated by Marvellous Mechanical Cunting Machine
A right-on-keep-left cunting please for this jumped-up, four-eyed, stupid as fuck looking whore, who seems to have very uni ideas on immigration ("lets be cool and flood the cuntry"):
https://www.dailymail.co.uk/news/article-7684803/Labour-shadow-minister-repeatedly-REFUSES-say-party-end-freedom-movement.html
The horrible things is that this daft looking moron is apparently tipped to be a future Labour leader. If that is true and not just a John McDonnell wank fetish (an old man's whim), then Labour have now not only scraped the barrel but got under it.
Nominated by W.C. Boggs