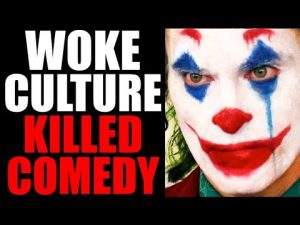 A nomination for the woke outrage over silly films.
The latest comic book film, 'Joker', has got the usual soy-licking culprits in a state because it sympathises with isolated, young, white men and romanticises their incel lifestyle and their rage at society.
One journalist from some clickwank site written for 12-year-olds says the film is ripe for the alt-right to turn into memes. Others say it is explicitly political, despite the director saying it's not really. Who cares? It's a silly comic book film, however well Joaquin Phoenix might play the role.
Why do these freaks only aim their sights at popular entertainment, especially these comic book films?
I suspect they lack the critical faculties and cultural knowledge to analyse the 'problematic' themes in great works of art, music or literature, because the learned will be on their case, laughing at their stupidity. Best stick to 'Stranger Things', eh?
We should pity these third rate sociology lecturers and their desire to write essay after essay on the male gaze in Adam Sandler movies, the misogyny of computer games, and their homoerotic 'Buffy the Vampire Slayer'/'Doctor Who'/'Harry Potter' fan fiction, or how Banksy is so subversive.
An industry of chimps, publishing claptrap for gibbons.
Nominated by Cuntamus Prime