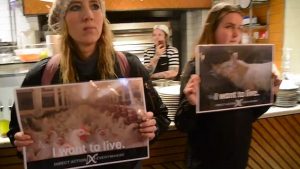 A bunch of hippy, vegan, workshy cunts went into a Pizza Express in Brighton (where else) the other day and started shouting about animal rights and accusing the customers of murder and all that shit. Some slag got a dig from some bloke…one of the customers, I presume. Isn't it bad enough that your idea of a good night out is Pizza fucking Express without having it ruined by a bunch of total cunts?
I'd like to see these fucking heroes come down my local Kebab shop and tell Abdul and his mates that they are murdering fucking bastards.
Ain't gonna happen is it?
Nominated by Freddie the Frog