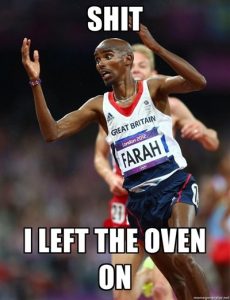 An EPO-fuelled cunting for 'Sir' Mo Farah, por favor admin.
I'll keep this as brief as possible. I have an interest in sports doping cases and have written minor pieces on the topic across various blogs, over the last ten years or so. I am a clueless cunt in most respects, but this is something I know a bit about.
Recently, the coach who brought Farah all that medal glory, Alberto Salazar, was found guilty of doping practices thanks to detailed USA anti-doping investigations over four years. Salazar's Nike Oregon Project was instrumental in the coach's practices.
Simple facts:
– Farah's coach is found guilty of doping in 2019
– Farah was part of the Nike Oregon Project until 2017 when he retired from athletics
– Many athletes involved in the Nike Oregon Project have been linked to doping or posted very suspicious performances (i.e. Sifan Hassan in 2019 World Champs)
– Various whistleblowers claim Salazar doped with 'an elite group of athletes'. Farah is arguably the most successful of all Salazar's athletes to date
– Farah claimed a very dodgy exemption to use approved drugs for an 'injury' in 2008 and again in 2014. He seemed to 'forget' about the one he claimed in 2014 when asked by the press
– Galen Rupp, Farah's friend and team-mate, strongly linked to doping
– Nike has a long history in staying faithful to doping athletes, such as Justin Gatlin, Maria Sharapova and cases with the NFL. Those in the know believe that Nike were fully aware about the doping under Salazar
So Farah's coach, friends, team-mates and associates were doping or involved with doping practices; Farah is cagey about what legal drugs he might have been taking; and his career peaks as soon as he enrols the doping coach.
Based on the USA investigation report, there is just no possible way Farah did not know what was going on.
But Farah must be clean, right guys?
"Why do you care, you fucking cunt?" I hear you ask. No, I'm not some moral arbiter for sport. But the increasingly apparent fact that Farah must have known about doping going on with his coach, not least being involved with it, suggests that he is at best a lying cunt, and at worst a fraudulent, deceitful cunt who may have conned his way to wealth, sponsorship deals and even honorary titles when the cunt, by rights, should have spent his twenties carving doner meat in 'Ashraf's Grill', Highbury.
This isn't some kind of Earth-shattering revelation; doping in sport is rife. The real essence of the cunting here however is the attempt by the British media to paint 'Sir' Mo as an angel, when the facts suggest that he is a duplicitous fucking cunt and no amount of 'init' broken English patois can mask the fact that Mohammed Farah is shaping up to be an all-time record holder of cunt.
Nominated by The Empire Cunts Back
Sir Mo Farah is a cunt.
Sir, yes SIR Mo Farah… that is the hardest part to comprehend, shoving your bony ass in a pair of glossy boxers then running like a waiter out the back door of a kebab shop when immigration come calling, does not make a knight of thee. Currently the media is awash with the Albert Salazar (not the best choice of name for someone involved in drugs) Nike Oregon Project being disbanded and Mr Salazar being found guilty by the US anti doping agency. Now one must be careful not to unjustly point the finger in these litigious times, but Sir Mo you did spend 5 years there 2011 to 2017 whence you broke many a record in that period and yes you doth protest your innocence whilst concurrently playing the race card, I feel one could come to our own conclusions on that front.
Sir Mo is famed for his little victory dance, which may bring a collective orgasmic rush to the sports media, but personally it reminds me of something appended to the arse end of a sheepdog.
Nominated by EVENING STAR