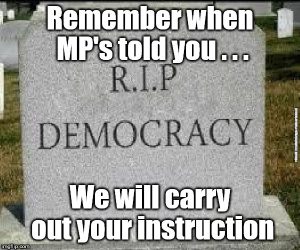 A cunting nomination for we the people.
The nation that gave birth to the Magna Carta and Common law has stood aside and watched democracy slain like a pig in front of us.
Either through self-interest, a willingness to let lawyers and politicians decide our future and the future of democracy, or through sheer idleness we have allowed a democratic outcome to be buried on bullshit.
There are lots of topics that we discuss on here that are intertwined, we deal with all individually and even then we only know what we are allowed to know.
As citizens we must soon act to reclaim a more pure form of democracy. The will of the people should not be denied by points of law or by the administrators of democracy… they are there to ensure that the outcome of democratic votes are delivered.
Those in parliament believe it was a mistake to ask the British people to decide on such a big decision. They will find the mistake was failing to enact it.
Nominated by Sixdog Vomit