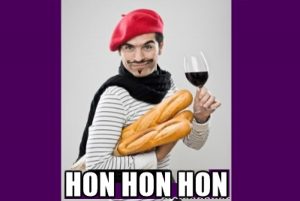 Yep, all of them. Having just passed through there, the very British xenophobic part of me was delighted to confirm that the lot of them down to the last man, woman, child and animal are Cunts with a capital C.
They still have no sense of personal space, simply refusing to move even when they are the only collection of matter that could possibly be in the way. I even watched a dog refuse to move for a human. A fucking dog!
They still take their time about absolutely everything, resolutely refusing to rush. I even witnessed a child nearly drown as his parent was in no rush to save him. By the time the rescue was afoot, only his fingertips were above the waterline.
Beasts. Utterly mindless beasts.
There is still art everywhere, as if it means anything. They still drape themselves over everything whilst smoking as if they are too relaxed even for cancer, and they still mumble their own language as if pronunciation is an affront to their idle nature. Folks blather on about the resistance effort of the French, but all of my personal experience drives me to the thought that it was probably easier than the alternative.
As for all that demonstration against political tyranny – more of the same, it's just an excuse for another day off work. What France needs is the benefit of a foreign political leadership who won't think twice about incarcerating any "freedom fighter" who sets public property on fire, who won't think twice about making public demonstration illegal and who won't think twice about introducing back breaking physical labour that goes way past a part time 35 hours a week. Work life balance my arse!
Truly shocking.
No small wonder that all those migrants manage to routinely wander all the way across to Calais.
"Look officer – a bunch of vagrant foreign nationals simply wandering at will throughout the land, look!"
"Fuck it, that's my 35 hours done. Leave it to those pesky Brits."
Cunts.
Nominated by Cuntflap