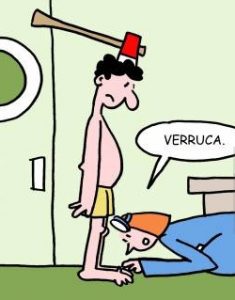 I enjoy swimming; it's good exercise and I find it relaxing. Conversely, I'm not fond of going for a swim at the local public baths.
There are a few things that piss me off about public swimming pools, most of them human. Yummy mummies for instance, 'oohing' and pulling silly faces as their progeny flop about in a blow-up ring about the size of a tractor tyre, looking as though they might piss in the water at any second. Yummy mummies fuss and hover like a mother hen, ready to strike out if you go within ten feet of their chick. Best avoided, but easier said than done in a busy pool.
Then there are the fuckwit lumps who hurl themselves into the water with all the flaying grace of a plane plunging tail first into the ocean, in spite of the 'NO DIVING' signs. Probably can't read, the thick twats.
Don't let me forget the orange-peel skinned old biddies strung out across the shallow end, yacking vacuously about last night's 'Corrie' or the latest royal baby, while kidding themselves that they're actually taking some exercise. And there's Billy Big Bollocks, the twat using the changing room hair dryer to dry his cobs.
But the thing I hate most about indoor pools isn't the cunts in them, or the horrible clammy atmosphere, or the uncomfortably chilly water and showers, or the shit coffee in the café. No, the thing I despise most is the unwanted gift which sometimes comes free with a visit, namely a fucking verruca. I've been fighting one of these little shithouses on my left foot for months to no avail, and I'm really becoming irritated with the sensation of walking about with a pound coin soldered to my foot.
Initially I phoned our GP surgery to ask for an appointment at the wart clinic, where they used to blast the bastards with a freezing spray. Sadly the clinic is defunct; a 'staffing issue' apparently. At our pharmacy, I was sold something called 'Bazuka' (extra strength no less), as in 'Bazuka That Verruca!'. This, according to the box, is 'guaranteed' to sort the fucker.
Trouble is, it hasn't. I've smeared on the gel and filed, and smeared on more gel, and after months of this, I've come to the conclusion that I'm up against THE WORLD'S HARDEST VERRUCA. This is one tough bastard; harder than a bag of spanners. In fact it's so hard that I've come to have a grudging respect for it, but that doesn't mean that I don't want rid of it pronto.
If anyone out there in IsACland knows how to shift the cunt, short of taking out a contract on it or having my foot amputated, I'd be delighted to hear from you. It's time to take off that verruca sock and start to fight dirty.
Nominated by Ron Knee