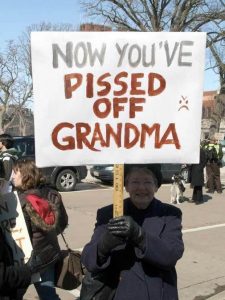 Back in the days before the internet, and social media in particular, you would be hard pushed to name more than 10 headlining protest groups other than the unions. You had the likes of Greenpeace, Wimminz Lib, Stonewall, Anti-Nazi League, MAD, Countryside Alliance and perhaps one or two others; but that was essentially it.
And even then (and we're talking 1970s-1980s), you would only really hear of these groups via the news media and perhaps word-of-mouth. But at least back then you more or less knew what each group were banging on about, and you could either support the cause or tell them to go do one!
Come the arrival of the internet, and more alarmingly social media, every cunt and his dog is his own protest group, moaning and complaining about something or other. You have the likes of the pro and anti Brexit groups, the LGBTetc groups, the Vegan groups, the Climate Change groups, and shitloads of others I really can't be bothered to look up and comment on.
My point is because there are so many, all of them desperate to get their message out there – usually via the likes of YouTube and Facebook – that from a normal person's point of view you don't dare do anything or say anything or face being jumped on by one, or more, of these overzealous groups determined that whatever their objectives are they're always right and everyone else is wrong!
Moreover, these groups are starting to become fractured with their only little splinter groups having their own agendas that sometimes come into conflict with their parent groups. And in addition, there must be many people out there who have conflicting loyalties with the various groups they associate with – for example, you may have a Remainer, but wants independence for Scotland; who hates gays, but is a Vegan, but drives a 4×4, detests kids, but supports anti-abortion; but is also a socialist, but wants to the comfortable lifestyle etc.
What would that person do if there were 5 major demos taking place on the same day in the same town, all of which came into conflict with their own opinions?
I think there should be a protest about all these protests!
Nominated by Technocunt