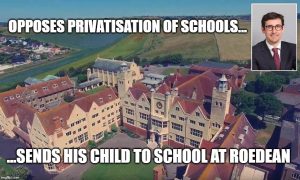 Nick Childs is a cunt. Who he, I hear you ask? Nick is deputy leader of Woofter and Transbender Central, Brighton and Hove Council, and an outspoken critic of private and independent education. A devoted Corbynite and member of Momentum, Mr Childs has campaigned to keep local schools free from "avaricious trusts" (his quote, not mine). Brighton Council, he said, did not "need a fly-by-night privateer to help us educate our children" (again, his quote). Mr Childs is also on record as saying: "Ofsted is enforcement agent of neo-liberal education system of competition, recidivist notions of education/ intelligence, narrow data sets, privatisation, and denial of impact of poverty"
Now you may say 'fair enough' to this opinion. After all, Nick Childs is a Corbynite socialist who clearly believes in old Wurzel's notion 'for the many, not the few'. The teensy-weensy problem however is that Nicky boy sends his daughter to private school. And not just any old private school; no, young Ms.Childs attends Roedean, the poshest of the posh, internationally renowned, independent school for girls, nestled in the beautiful Sussex Downs.
Goodness knows where the councillor gets the £40k per year fees, or how he justifies such hypocrisy to himself and his Momentum colleagues?
What an absolute Premier League cunt of epic proportions. The very worst type of loathsome, hypocritical bastard.
Nominated by CuntyMcCuntface