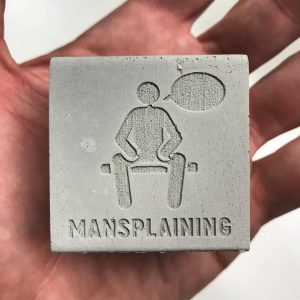 Sorry if this has already been cunted, but I want to nominate the words such as "mansplain" and "manspreading" for a cunting.
So basically the term "mansplaining" is for when men explain something in a patronising or condescending way. So what's wrong with using the words patronising and condescending? It also implies that its only men who can be patronising and condescending. Which is just not true. Some of the most condescending arseholes I have met have been men, but some of them have also been women.
The phrase "manspreading" is when a man sits down and has his legs spread wide and takes up space.
Now I don't know about anyone else, but when I sit down, I have my legs spread out because that's the most comfortable position. I'm not doing it as some sort of alpha, posturing, territorial bollocks. Now I'm not the biggest of blokes, but I have quite chunky legs from weight training and its the most natural way for me to sit; I'm not encroaching on someone else's seat because I have a respect for other people's personal space and my own.
Again it also suggests that women never spread out and take up other people's space, which anyone who's gone anywhere after a day shopping with the missus knows is BS.
For example:
https://www.dailymail.co.uk/travel/travel_news/article-4522350/Hilarious-photographs-women-FEMSPREADING.html
https://www.youtube.com/watch?v=ESxRXECdMSk
The point is that people can be twats regardless of whether they are male or female/ non-binary/identify as a purple octopus/ etc…..
…but I suppose that doesn't fit with this skewed agenda of all men being bad just for having been born.
Nominated by Cunt Duckula