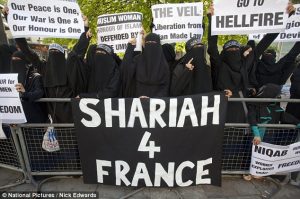 I cannot understand why anybody would find it necessary, edifying or sensible to march through the streets demonstrating their "pride" in their sexuality – after all we don't have "Left-handed Pride" or "Chartered Accountant Pride" – two other minority states. That said it is a free country, but not apparently if this shrill Muslim tart had her way:
https://www.standard.co.uk/news/crime/woman-shouts-shame-on-you-at-pride-participant-in-east-london-a4199851.html
Listen to the hysterical old cunt repeating herself like a fucking parrot/
There are so many things wrong with this. The fact that she is virtually in hiding since she is wearing the garb more suited to the Middle East than East London, so her outrage is as anonymous as it is cowardly. There is no way the gobby shortarse could be identified.
Secondly like most of these creatures she is no doubt part of a large family, and I doubt she worries about the sexuality of those who contribute to keep her in benefits for life.
Thirdly, if her and her friends in Birmingham who think it perfectly alright to scream abuse at school gates or in the streets of London or anywhere in Britain, while hiding their faces, because they don't "approve" of the lifestyle of others then perhaps her and her dirty compatriots should take their stinking garlic infused clobber, their fucking "culture" and themselves off to a country that will not offend them, so they don't offend the rest of us with their squealing complaints.
I hold no brief for buggers but for how much longer are we going to allow the tail to wag the dog?. It might only be Monday, but she is midget cunt of the week so far. Force smoky bacon crisps down her capacious gob.
Nominated by W. C. Boggs