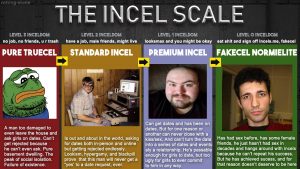 This moronic, pathetic subculture of self-appointed 'nice guys' moaning that women should give them a chance and wank them off, expecting some beautiful blonde with 34G tits to fall onto their spunk-encrusted Harry Potter duvet, surrounded by jugs of piss and Transformer toys, and just 'love them for who they are.'
They are the mirror of the frustrated feminist, who displays her 'male tears' mug on social media, but who you know cries herself to sleep after an evening of Haagen Das, Pinot Grigio and a cucumber covered in baby lotion.
You probably know I'm not a feminist, but these 'men' blame women for their personal failings, their awkwardness. Rather than trying to look after their appearance, they whine about 'chads' and 'staceys' in their little communities of self-pity, convincing themselves they are ugly and worthless. They don't have jobs, preferring to play World of Warcraft and watching anime, doting on cartoon Japanese Lolitas who they imagine they could marry.
Sometimes the disillusionment and infantilism becomes a hatred towards anyone who has a sexual relationship, leading to grisly manifestos about torturing the sexually successful, 'inflicting pain on the attractive people for denying them the carnal pleasure they are entitled to', warped megalomaniacal rants via basement tapes and, ultimately, shootings.
These fuck-ups have grown up in a society that punishes the values that could help them, which is the fault of successive governments in adopting policies that undermine the family and men's roles in society. However, this is not an excuse to avoid responsibility and while many come to resent women, others become snivelling male feminists in some vain hope they'll get a shag. The problem is that simply sitting on a computer saying 'I'm a nice guy' or I'm a male feminist' while looking like a pimpled compost bag of rice pudding isn't enough.
These cunts may need to put down their game controller and leave the house and make the effort to not look like vast invertebrates who cry all the time.
They may also find their habits of adressing women as 'm'lady', their grandiosity, and fawning and dribbling is not very attractive, and just because they compliment a woman, it doesn't mean they'll jump into bed with you. The fact they resort to calling women 'whores' and 'thots' at the slightest hint of rejection doesn't help their case. Personality, as well as looks, need working on. It seems that is too much to ask.
Also, the creepiest, most pathetic aspect might be their desire for the government to provide women for them to fondle with their Dorito-stained, man-child fingers. Given their predilection for Japanese schoolgirls, I don't think it's a very good idea.
I knew a person who didn't blame Incels for their resentment. Although he too was a jobless man-child in his late thirties who spent his days playing computer games. He also posted videos about 'how to respond to being told to 'man up". Clearly he got told that quite often.
Incels, much like blue-haired feminist loons, they are crybaby cunts who blame society for personal failures.
Nominated by Cuntamus Prime