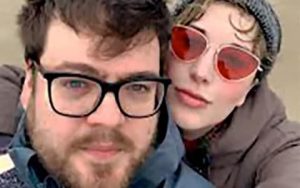 I'd to nominate a breed of male called 'bugmen'.
These cunts have numerous identifying features;
Superficially, they have unconvincing patchy beards, glasses and are prematurely balding.
They have flabby bodies, pasty skin, thin weedy arms, soft hands, weak chins and low testosterone.
They work in office jobs, usually in cubicles for huge corporations or government departments, but never aspire to run any department or work for themselves.
They often live in big cities with large immigrant populations.
They call themselves feminists and 'liberal-left', they virtue signal their progressive attitudes.
They are obsessed with nerd culture and collect toys and games.
They nod at fashionable opinions, watch films based on review aggregator sites and clamour for the next gadget, which they use to watch porn and anime.
They take selfies with mouths agape and dead eyes (akin to the soy boy).
Crucially, they are culturally rootless, defining themselves by their unimpressive qualifications and over-reliance on social media to make and maintain friendships.
They are the 'anywheres', dickheads who would look , sound and act the same whether living in Rekjavik or Cape Town, Austin, Texas or Singapore. They have no reverence for their ancestors or heritage, embracing the culture of repudiating The West. They are poorly read, historically and culturally illiterate neophiles who pay lip service to the wonders of science while picking and choosing what they believe. They are staunch atheists without really knowing why or understanding any philosophy that grounds scientific method.
They are living a soulless existence of worshipping the ephemeral and an endless, unthinking support of the tropes of globalism; diversity, climate change, the EU, multiculturalism, the benevolence of big tech firms and neo-liberal mass consumerism.
They are fucking insects.
Nominated by Cuntamus Prime
(admin note, this cunting appeared just as the chap in the photo stepped into the limelight, it seemed appropriate somehow)