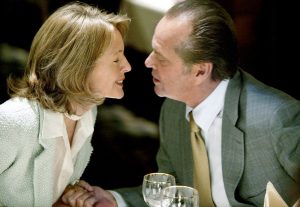 Jack Nicholson and Diane Keaton
I hope ISAC will allow a double cuntings as I want to nominate this pair of cheese farts after being forced to spend two hours watching an appalling film called "Something´s Gotta Give" in which Nicholson played his usual grinning mad axe-man part while Keaton was goofy and toothy. It´s a geriatric love story with "jokes" about Viagra, constant trips to pee and willy size. These two insufferable thespians are under the illusion that they are talented and witty. They have been repeating themselves since becoming overnight successes in acclaimed but mediocre films like "Easy Rider" in Nicholson´s case and Woody Allen´s self-indulgent masturbatory fantasy "Annie Hall" in Keaton´s case.
To see what Nicholson is like in real life check out "The Smoking Gun" site and read the police files about Nicholson after he was accused by a prostitute of refusing to pay her for a night´s bonk and then beating her up. Odd that the enlightened American media has not dug this up but perhaps it´s because Niggardly Nicholson – a Democrat – was a supporter of the Clintons. Keaton, of course, was another Hag for Hillary.
Nominated by Mr Polly