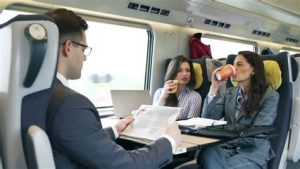 High time I gave an obscure cunting to Coffee-Fuelled Commuters.
You know the type. The Essex-based estate agent and/or middle management project co-ordinator, marauding around Paddington train station for the 6:45 Bristol Parkway via Reading; kitted out in an ill-fitting Next clearance-sale suit creased to the fucking hilt, skinny tie which if one squinted could look appealingly like a noose, hair styled into some hedgehog shit with last night's unwashed grease, shuffling in disproportionately shiny loafers clutching manbag, laptop case… and clinging on for dear life to a shitty, sugary syrup abomination otherwise known to these fuckers as 'coffee'.
Bleary-eyed, these cunts cannot even stomach the 10-minute journey from A to Bedford without sipping on a Costa concoction of daylight robbery vanilla bullshit mochachino. I'm not sure about anyone else but the pungent fucking aroma of cunt-commuter fuel with two extra shots drives me to fucking distraction.
Don't get me wrong, I love a decent cup of ground coffee but tend to drink it quite sparingly, and never get what passes for 'coffee' in these manufactured outlets. A nice coffee from a local cafe is harder and harder to find because the poor fucking owners are always driven out by the megalomanic shit merchants.
But more annoying than the beverage itself are the cunts who slavishly prop themselves up on it. Beryl from accounts, that fat overbearing matriarch, talking loudly on her iPhone in the quiet coach about team targets and diversification of resources, with her withered and fag-parched lips supping so loudly on her Starbucks that I have to flex every sinew with agonisingly furious restraint, in order to stop myself repeatedly head-butting the triple-glazed window 'til the merciful sleep of unconsciousness saves me from myself.
From bean to cup, they're fucking cunts.
Nominated by The Empire Cunts Back