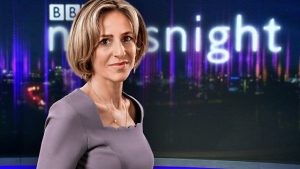 Newsnight is a cunt.
Newsnight has been quick to highlight how great it is now it has its new, all female broadcasting team. Upon Evan Davis' departure, Emily Maitlis will takeover as lead, alongside Emma Barnett and Kirsty Wark. Now, let me be clear, having female broadcasters is not why Newsnight is a cunt, indeed having an all female team is also not why they are cunts per se, it's the fact that they sing from the roof tops at how progressive they are. Note if it was an all male cast it would have the exact opposite effect, which is ridiculous.
I'm all for equality, but stunts like this go too far the opposite way. It's now sexist to have males in leading roles. Years ago I wanted to become a fireman, but a current fireman said I had no chance, because I was a straight white male. This is the same issue, if a man gets a CEO position there's always some cunt complaining that a woman should have gotten the job, but if a woman gets the role all of a sudden it's rise up and show the world feminism is king, or queen or whatever the fuck the term should be.
Your bias 'news' is bad enough Newsnight, without your fucking feminist agenda.
Nominated by elboobio