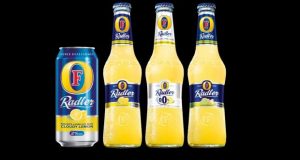 Now unbeknownst to you all I once ran a 25 litre reflux still and used to knock out my own hooch.
My specialty was a ginger vodka that would put the Prince of Wales to shame.
Anyway, to cut to the chase; I used to pour samples into milk bottles and wait for them to clarify. One night I had sampled a bit and decided not to take the trip and used a handy receptacle.
The next night I went to check my stock and found a perfect sample, good Ginger aroma so I took a swig. Aroma/flavor/ after burn were some what lacking.
So on this I would like to educated announce that the "Fosters Radler" tastes worse than my piss (samples available on request)
Nominated by Lord Benny