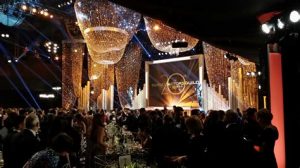 Awards Ceremonies
Yep. It's that time of year again. Take yer pick between them. Oscars invariably preceded by manufactured controversy over some unheard-of cunt "comedian" upsetting the easily offended. Well you can have Fry instead but don't forget to distance yourselves pronto the moment that your old chums Spacey and Wankstain hit the buffers you toadying cunts.
BAFTA? Embarrassingly over-recognises the worthy-but-tedious UK nominees or finds the most tenuous of British connections all at the expense of more deserving winners who are invariably not bothered to attend either. Look out for that hideous mouth-stuck-open Olivia Coleperson this year (if you can be arsed)
The Brits. What a pile of shit handing out awards to the endless stream of here today/gone tomorrow load of shite. Rag n Bone Man? Stormzy? Who the fucking hell are they? Who the fuck cares?!
And all of the above fawned over by the usual virtue-signalling audience clapping away like performing seals bedecked with the latest ribbon or badge to display their "right-on" credentials.
Nominated by Isaac Hunt