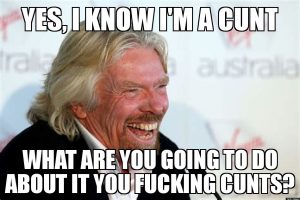 Richard Branson
A far from Virgin cunting please for this publicity-hungry raddled old queen, who thinks he is some kind of latter day Dr. Livingstone. Just as we have to have a weekly Beckham story, so it is too for old Dick. Here is the latest:
https://www.bbc.co.uk/newsround/46387294
The old wankstain has far more money than sense and too much time to indulge it, and he always has that self-satisified smirk on his face as if he was being rimmed by Anthony Blair, at the same time as having his todger sucked by Alan Carr. What a gold plated cunt the elderly arsehole is. If he could just admit it was for self sought publicity, fair enough, but he always tries to imply some great humanitarian good. The only thing Dick is interested in is Dick and his decrepit "brand".
Nominated by W. C. Boggs