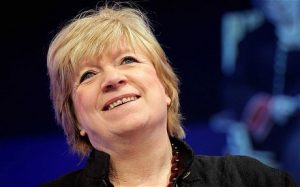 I was watching Politics Live today (23/10/18), and who should pop up? That insufferably arrogant far left fuckwit, Polly Toynbee. Andrew Neil did a good job of showing her up as the hypocritical cunt we all know her to be. The subject was Brexit (what else?) and the Losers Vote. Toynbee, unsurprisingly, was singing its praises, when Brillo reminded her of something she said last year, which was, "never try another referendum". Her response to this reminder? "Well, except possibly this one".
Clearly, she's convinced that a loser's referendum would suddenly swing in favour of Remain, and all those traitors can finally stop whingeing and acting like spoilt three year old girls, because it would mean that they have won and Brexit had been consigned to the political bin. Along with democracy. The problem that Toynbee and all the other sad twats calling for a second referendum have, is that their dream of reversing Brexit through a completely undemocratic second referendum is more of a cocaine induced hallucination.
Besides, every honest poll that I've seen has not only shown that Leave would win again, but it would win by an even greater margin than in 2016. So what would happen if they if get their Loser's Vote, and the people again vote to Leave the EU by an even greater percentage? Will the Remoan whingers accept that result and finally shut the fuck up? No, of course they won't. They'll stamp their feet, scream and shout, and demand a THIRD referendum. Motherfuckers like Toynbee despise the UK and the British people, and want to see our country turned into an irrelevant province in an unelected, unwanted, anti-democratic, totalitarian new country called The European Union.
I've said it before and I'll say it again. If scum like Toynbee love the EU so much, why don't they fuck off to an EU country of their choice and live happily ever in their Socialist Utopia? That's easy to answer. It's not enough for them to be miserable, arrogant, left wing dick lickers, who want to spend the rest of their lives as slaves to an unelected group of foreigners, they want the rest of us to be miserable cunts too. Well fuck that. Life's too short to be like Toynbee. I want to be happy.
Nominated by Quick Draw McGraw