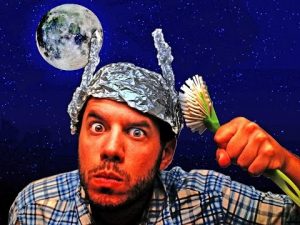 Jewspiracy theorists. I'm not talking about criticism of Israel – there are plenty of things wrong with the Netanyahu government which deserve to be criticised – and I'm not even talking about those who don't have an issue with the average Jew and simply have questions about how many Jewish people are in power
– I'm talking about the types who believe in the holocaust denial and blood libel shit and that everything bad which is happening right now, everything that is wrong with the world is caused the controlled by 'the joos'.
Seriously, how paranoid do you have to be to, in this day and age, believe that absolutely everything to do with the world is controlled exclusively by one religion? I'm not going to call these people thick because a lot of them do seem to have a decent level of intelligence, but such a conspiracy theory only overcomplicates things when in my view at least the explanation is far more simple – the elites fuck us over because they're elites and the only time religion ever comes into it is when they are bending over backwards to appease the violent, backward, misogynistic homophobic, patriarchal, 7th Century death cult that is Islam.
I know this is probably going to upset a few people on here but hey, I don't care – such freedom to speak your mind is the beauty of ISAC.
Nominated by OpinionatedCunt