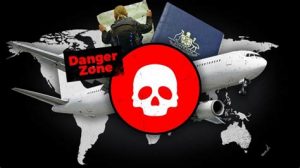 Danger or Dark Tourism
This is the seemingly new practice of usually 1st world cunts travelling , quite intentionally to 3rd world shitholes.
However, unlike Jemima and Tarquin's gap year building orphanages out of bricks made from the locals' excrement, the strategy ofnthese monumental cunts is to deliberately target areas that the foreign office says try not to bother with if at all possible.
These cunts are usually boyfriend and girlfriend and without fail the bloke will usually be antipodean and will own one of those maps to show all the CUNTries he's been to, with which the cunt will be only to happy to bore you.
Like I'm fucking interested.
It's a shame these maps don't have time spent in each country on them as no doubt Australia is way down that ranking table but he'll tell you how great Australia is . Yeah your home country is a fucking desert effectively . It's why all you cunts are here.
Anyway I digress, I've just overhead this.dozy bitch in the office say that her and "Brad" are going to a fairly dangerous part of central Asia on a three month sabbatical.
She says this loudly a lot , like the rest of us are supposed to be impressed that quite literally the softest person in the office has been tricked into thinking it will be fun. I shit you not, she was crying the other day because someone else's cat died.
She has this idealised view of where she is going, as if she is some sort of latter day Walter Thesiger.
The reality will more likely be that Brad gets his head cut off on YouTube and she gets annihilated in all holes before suffering the same fate.
There's no romance in going to war zones you stupid stupid cunt, it's why nobody wants to be there.
Nominated by Cunt of the litter