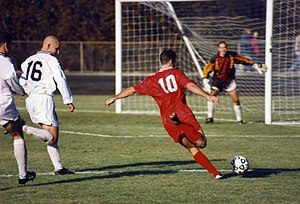 I'd like to cunt football.
So half of humanity are obsessed with this 'beautiful game'.
Why? What the fuck is so great about watching a bunch of camp hipster illiterate fuckwits prance around after a ball?
How on earth is one game really any different from another? Let me guess, did one guy kick the ball towards the net? Gosh. What an utterly unique approach to the most mentally demanding of activities.
How is it that half the fuckers that play this game have some sort of affiliation with hotel room spitroasts, driving offenses or cheating on their wives? Why is every fan happy for their child to wear a shirt with these people's names on? How come hardly anyone knows about grammar these days but everyone can pronounce every goatherders' seventeen letter surname so long as his foot touches a ball?
And what is this obsession with going all doe-eyed at the mention of a cup 'coming home'? It is not coming home if a bunch of somalis bring it home for you, is it?
I find the whole thing rather monotonous to be honest. But every person I have spoken to who has spent their childhood 'kicking a ball about' has truly shocking gaps in their education. I have recently spoken to one who did know what Auschwitz was.
Please…..
Nominated by Cuntflap
Football Fans are Cunts. (That should get one or two Cunters' attention)
Football fans really are the most entitled of any sports-followers. I've just been reading about a group of fans who are whinging because Mike Ashley ( Newcastle United Owner) had the audacity to flick them a sly V-sign after they'd stood outside a restaurant where he was dining shouting abuse. How very unreasonable of him. Now Mike Ashley may well be a Cunt,but if someone had been shouting abuse at me for 2 hours they'd have got a lot more than a sly V-sign.
Football fans seem to be the worst for thinking that they can hurl whatever foul abuse they fancy at people,and yet if the object of their ire has the bare-faced cheek to respond,they come over all shocked and giddy. Armed with the ubiquitous mobile-phone footage,suitably edited,they scream about how disgusted they were at their target's behaviour. Normally "My kids were there,they were shocked" normally comes in to it. Never mind that they've been screaming pure vitriol for the preceding hour,their target telling them to "Fuck Off" comes as shocking behaviour worthy of police investigation…and worse still,the police are obliged to listen to the morons.
I know that other sports have their hecklers,but no other sport has the same level of pure spite that football fans exhibit. The spite doesn't bother me,what bothers me is the hypocrisy. For grown men they seem to be remarkably thin-skinned. Apparently the mildest of swear-words or gesture,if directed at them, is enough to send them into a fit of the vapours.
Fuck them.
Nominated by Dick Fiddler