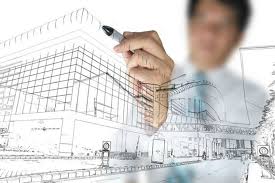 Wow, another category of uranium enriched cunts that we appear to have missed on the award winning ISAC. Architects.
Architects are cunts. Simple as that. Time was that they were happy to design buildings but that's no longer enough. Architects are society's new visionaries with opinions on everything. Rooms are no longer just rooms; they are now spaces. Lines are always clean and buildings must make a statement, whilst remaining minimalist.
'Brutalist' concrete monstrosities from the 60's are now considered design classics that must be preserved, regardless of the fact they were shit even when they were built. Communities are 'organic constructs' and wood-burning stoves give them full-blooded erections.
They worship at the alter of a host of Dead Pool architectural Grand Masters like Zaha 'Organic Forms' Hadid; Arne 'Danish Cunt' Jacobsen; Mies van der Twat Rohe; Frank Lloyd Fucking Wright, and a complete cunt by the moniker of Le Corbusier.
Having recently spent time in McCuntface land in the company of several of these yah yah's I have reached the following conclusions; architects line up as strong advocates of independence, in spite of the fact that their services would be first to go when the shit inevitably hits the fan. This is because they see themselves as anti-establishment, Progressive Radicals when, in actual fact, they are just cunts. The Edinburgh Architects Association's annual award is a Silver Medal rather than Gold. Across the entire world, a Gold Medal is awarded to champions and winners, but not for Edinburgh Architects; those cunts choose Silver. How fucking Architecty is that?
Architects: fuck off and take your thick- framed specs, black shirts and Audi Quattro Allroaders with you. And whilst you're at it, shove the fucking ski roof racks right up your miserable, scrawny arse cracks.
Wait till the next recession: you'll all be back to designing cheap fucking kitchen extensions with flat roofs, lots of clean lines and squares await you.
Cunts.
Nominated by CuntyMcCuntface