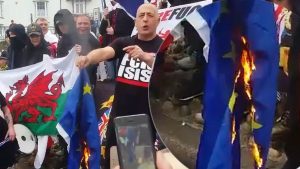 No, not the small fringe of retards that like swastikas and so on. 'The Far Right' as it is now applied.
Think immigration is a tad excessive. Far Right
Think the Burka is inappropriate, demeans women and looks ridiculous. Far Right and Islamophobic.
Don't rejoice at the gay/trans bullshit that overwhelms us. Far Right. Unless of course you are a peaceful in which case it is 'right-on'.
Suspicious of peacefuls and what is preached in their mosques. Far Right and Islamophobic.
I have even seen it to describe Leave voters.
There are many other examples that I am sure cunters can add.
The Far Right is another phrase from the Ministry of Truth.
Please note. This is a succinct cunting so that fellow cunters don't wear their lips out reading it as I have on some cuntings.
Nominated by Cuntstable Cuntbubble