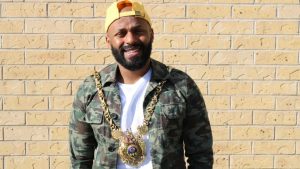 Lord Mayor Magid Magid.
No that's not a euphemism. That's the actual cunting title and name of the big boss cunt in charge of Sheffield these days.
There's various things wrong with this cunt that could be discussed. Such as the Metro branding him 'Britains coolest mayor'. The fact he's only 28.. like how the bloody hell is that even possible, what possible experience could this trendy tryhard possibly have!? The fact he was so dignified and truely British that he swore and spoke like the reject that he clearly is during his mayor inaugural speech. Or the fact he referred to Trumps Muslim ban as 'racist'. Which brings me to the main thrust of this particular cuntflap, before I get too side tracked and vapourize my own piss,
The Lawd of Sheffield, innit', has decreed that Trump is banned from visiting the city when he comes over here to visit.
He also has a degree in Marine Biology. A great use of our taxes he has been and inevitably will be.
Nominated by The Big Chunky Cunty