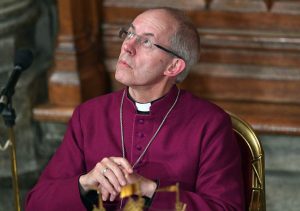 Snowflakes beware because I want to offer a Holy cunting to the Archbishop of Cunterbury Justin Welby. Obviously hoping to take over the position previously occupied by the Revd Tony Blair, he had this to say of the EU yesterday:
"The EU is the greatest dream realised for human beings since the fall of the Western Roman Empire"….bought peace, prosperity, compassion for the poor and weak, purpose for the aspirational and hope for all it's people".
Crisply put, eh?
This lump of human excrement was at some time *something in the City* what a pity he doesn't fuck off back to it, to brownose the likes of Mandelson and Osborne.
I know this will make this piss boil of several of us on ISAC, but he finished his sermon with strong words against:
"….the rise of Euroscepticism ..the flames of which are fanned by 'scare stories' about migration and refugees".
Where does this old motherfucker keep his brains? Presumably in the piss-stained Y-Fronts he changes once a month during Lent.
I wish this old cunt would join Gina fucking Miller, Mandy & Blair and the incontinent old fuckwit A.C. Grayling and go and live in Brussels and then shut the fuck up.
Nominated by W.C.Boggs
Just to show how out of touch Justin Welby is with reality, he has this to say about the EU and his precious failing church :
"The fact that Christianity survived in Europe does not indicate that it is indestructible, but that God protects the Church that he created and loves" which clearly explains the falling congregations. He also seems not to understand that the "Church that God created" is based in Rome not Canterbury?
He added :
"Europe, like other parts of the world, is in a fragile phase. Current geopolitical uncertainty is unsettling. In my part of the continent, there is a nation attempting to leave the EU, on the other edges of the EU such as here there are countries and peoples keen to get in."
Clearly he doesn't understand that the nations trying to get in are there for the handouts and that the nations providing the handouts – like us – are the ones who have had enough?
And that we have had enough of him and his biased, pro-EU, political pronouncements. Fuck off back to your pulpit and preach to the converted – assuming you can find any.
Nominated by Pedantic Cunt