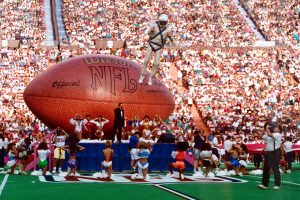 A 3-course cunting please for American Football and the Superbowl. Or rather, the sudden obsession that the British Media appears to be harboring for this fucking borefest of a sport.
As some may have gathered, I'm into sports. Many and most are of interest to me; even a few of those favoured across the ocean. But American Football is never something I ever 'got' and found the endless stop-start, stats-obsessed games of chess with steroided hulks a complete turn off. Each to their own. I accept I could well be a cunt for not liking something seemingly very popular with our friends across the pond.
The fucking nub of the matter though – every cunting news outlet in this, THIS country is currently fawning over the NFL Superbowl like never before. Every site from the Al-BBC to the Mail is covering multiple stories on this over-indulgent wank. Why? Since when have fucking white-van men driving to a building site ever said to each other "Oi Tel, you see the match last night? Brady didn't 'alf put down some facking top yardage in the offensive zone."
Just what is it with Britain furtively absorbing all the bastard imports from the US? Halloween has gone from a mildly routine knock-door-run evening, asking for a few bob – to a full-on fucking mammoth commercialised holiday season. Black Friday can kiss my faeces and don't even get me started on the cringeworthy adoption of ghetto dialects.
But American football? Really? It's getting disproportionate coverage considering that no fucker here plays it. The last two years especially have become unbearable – I suspect a fair bit of the love-in stems from the significant 'celebrity' presence in and around the sport; a vile cancer that permeates our two countries more than any other in the world.
Fuck off with the pigskin. The only fucking oval ball I want to see is the one being hoofed from Jonny Wilkinson's boot. Fuck quarterbacks, fuck yards, fuck Tom Brady, fuck that BBC mong presenter 'Chappers' who literally blows his beans on screen every time he presents the NFL show, fuck the superbowl and most of all, fuck the British media for forcing this festival of cunt down our throats.
Nominated by The empire Cunts Back