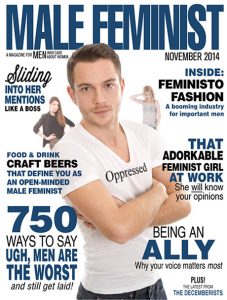 Male Feminists are cunts, aren't they?
Why would you be a man, red blood flowing through your veins, a lampton swinging down below, man yoghurt busting to fertilise, but support a gaggle of angry-faced, green-haired, ugly swamp donkeys?
Are these "men" simply signalling their virtue? You can favour equality without joining in with the loonies.
Should women have equal rights? Yes. Should they be paid the same? Yes. Should we continually attack the male gender for wanting to have sex/look at porn/scratch our balls/watch football/have our heads turned by an attractive female? No.
Yet a large swathe of society, especially the Yoof, join in with this perpetual and visceral hunt to deny men what Nature ordained them to be.
As someone once said, "When a man describes himself as a male feminist, you can start the clock on the rape charge."
I can only hope it's a veiled pretence by cunning, young chaps to get one's leg over although judging by the look of most feminists/SJWs, I'd rather have a wank.
Nominated by Captain Magnanimous