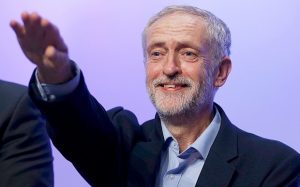 I know I'm stating the obvious here but Jeremy Corbyn is a cunt.
He's a cunt for an uncountable amount of reasons but the reason I'm cunting him today is due to the sacking of labour peer Mendelson in relation to the presidents club "scandal".
Now I'm sure I'm not the only cunter here that sees how ridiculous this presidents club shit is, and usually I wouldn't stand up for a peer and especially a labour peer but here are the facts.
He attended the event.
He never saw anything untoward.
He left early.
He was there to represent the charity that he is a president of.
The yobbish behaviour was only carried out by a few drunks, most attendees were well behaved and this has been confirmed by the hostesses themselves.
There's no evidence whatsoever that he engaged in any lewd or illegal behaviour.
He has "unreservedly condemned" the claims of others' impropriety.
So he's been fired for attending an event where a few idiots got unruly.
That's exactly the same as you being fired for going to a pub where a few cunts that you didn't know got into a fight.
And this is from Jeremy Corbyn.
The same cunt that bangs on constantly about employees rights and workers rights and that all bosses and business owners are cunts.
Employees have rights. …unless you work for Corbyn that is.
Guess employment laws only apply to us and Corbyn is exempt.
This is another over reaction by weak and scared cunts, sucking up to Twatter mongs and feminazi's and I'm getting pissed of with it.
It's fucking mob justice and this shit needs to stop.
…just like the Rourkes drift cunts the other day.
You can't fire someone unless you have evidence that they've done something wrong.
….Unless you're Jeremy Corbyn.
Corbyn is a cunt. And now he's also a hypocritical cunt.
Maybe now he'll stop making out that he's the champion of employees but I doubt it.
Nominated by Deploy The Sausage