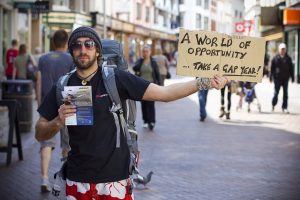 The Gap year!.. Someone please tell me why in fucks name, some air headed fuckwit blond with big tits needs to fuck off for a full year to some camel shagging country all by her fuckingself, taking no fucking phone, maps or fucking plans, and then whinges because she gets fucking raped?
This gap year shite is just an excuse for workshy thick as shit students to "explore" the world believing that the "world is at one, and we are the world" These retarded fuckwits know absolutely fuck all about anything. They have attended a fucking university straight from mammas tit, and with fuck all in the way of education in between. They have been indoctrinated by liberal arseholes and live in a fucking haze of cuckoo shit. It is often up to the taxpayer to fund their fucking rescue to extricate then from the real world where their ignorance and stupidity are lethal. And the cost to Mamma an Daddy!!! Having created a massive mountain of debt by going to fuckwit university, to get a degree in "How to tie my shoes" ( BSc ) They embark on reckless abandon into the void for a " life experience"
Can you imagine in our day, telling your parents that you can't be arsed to get a job, and you were going at their expense for a year long holiday.?!!!!
And for now, they are even wanting to gap between leaving 6th form and Uni, and taking a second gap in year 2 or 3.. Jeez. Vacuous retarded self indulgNment cockwombles! Cunts, every fucking one of them!
Nominated by Asimplearsehole