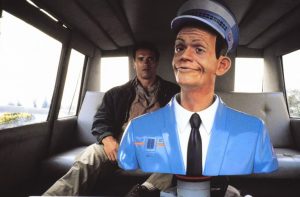 I am not puzzled at all over this horseshit idea. I don't want them. I don't want to own one. I do not know any one who does want them. The only cunts to benefit will be the government. With this technology, they will be able to implement their policies over control your freedom of movement. They will be able to control where and when you go. Imagine a hybrid of the BBC and DVLA running that. I have heard fuck all about how this is going to integrate with all other traffic. No big picture. So it's a hidden secret agenda. Of course it sounds 'electricky' so it must be good for the planet, for fucks sake. Owning a car will be pointless as the control program will be owned by the government. So we get the ultimate Volkswagen, a travel pod for RENT. Only allowing you to travel to authorised destinations. The car insurance business dies, as does the car manufacturer industry and your bit on the side. Its 'big program' will supply movement anomalies to a 'big data' factory.
Where's Dave, oh he called in sick with a bad back, oh hang on, he left his autocart at Ascot Races and he's just gone to the Travelodge.
Where's Ahmed? He just stopped off at B&Q to buy some nails on his way to Oxford street via the chemist's.
If the rozzers can't nick you for drink driving and speeding and getting a good noshing off some bird from the office while watching extreme porn on the deputy prime minister's computer on the way home, how will they pass the time?
More likely it will end up like a Jeepny in Asia, a shared minibus to the mortgage repayment treadmill factory presided over by Mr M Goldman Carney. Cunt. Please someone put the case for driverless cars, or better how they will be abused by the CIC. (Cunts in Charge).
Nominated by Haywood Jablomee