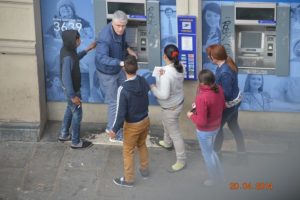 Gone are the days of a "10p forra cuppa guv?" down-and-outs ambling on their way between towns.
Now the cunts are annexing the point of source and – to quote Obi Wan – in growing numbers.
Where I am based through the week (Lutonistan) there is a triumvirate of cashpoints, both sporting at least 2 ATMs.
As Christmas approaches their encroachment in proximity to said ATMs decreases to the point where all 7 ATMs had a beggar sat – not near to – but directly underneath said ATM making it unavoidable not to have to interact with the cunts, if even to say "SHIFT!" or "FUCK OFF!"
Please note that there was a panda car decamped outside the local "peaceful" piri piri joint (serving authentic Catholic Portuguese halal chicken), in full view of these cunts hampering folk who actually earn a crust from getting there moolah (if not begging with menaces) and doing nothing about it (other than wiping the grease dribbling down their chins that is).
I wouldn't care the fucker I had to avoid even had the audacity to say: "We take the folding stuff as well mate!"
Do you, do you really!?! OK how about I go and take a soft shit, wipe my arse, fold that and give that to you, you fucking CUNT!
Don't get me wrong, I've chucked more than a quid in the odd begging bowl but these cunts take the fucking biscuit! Cunts!
P.S. I'd like to un-cunt the scouse lad who was with me (don't know him but we were in the same digs last week) for a couple of priceless one-liners when dealing with said cashpoint beggars…
Beggar: "Spare a few quid forra a warm meal mate?"
Scouser: "Er, yeah, d'ya take switch lad?"
Same beggar: "Wey'ull cans you spare a fag mate?"
Scouser (smoking a tab): "Nah, sorry mate, I'm down to me last forty!"
Nominated by Rebel without a Cunt!