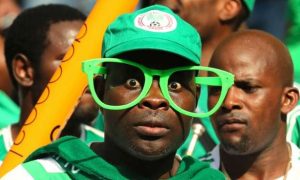 I want to cunt Noisy Nigerians. Straight off the bat let's get this clear – I don't give a continental fuck how this looks.
Why the fuck do these bastards have to talk so fucking LOUD? If it isn't Nwengweh and his mate doing the "LObba lobba lobBA" at ear-shattering volume on the back of a bus, then it's another Nigerian housewife endlessly fucking barking into her phone for the entire train journey; often with the thing on loudspeaker.
Worst of all are the ones who sing to themselves – loudly – at the most inappropriate places. Yesterday I was in the queue at Marks, and some old woman – kitted out in the complete curtains and fruit bowl ensemble – stood behind me giving it the full fucking Ladysmith Black Mambazo*. Of course I couldn't tell the cunt to shut up, or I would have made the national news, for Christ sakes.
Just shut the fuck up for five minutes!!!
*Other African vocal groups providing music for 90s baked bean adverts are available.
Nominated by The Empire Cunts Back