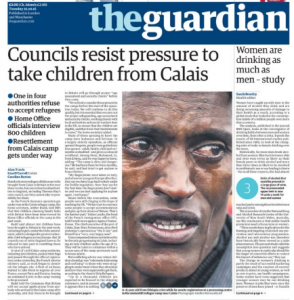 The Guardian is due a cunting for it's front page today showing the Associated Press photograph of a 16 year old Ethiopian refugee crying at a processing centre.
Now I thought that cunt smear Gob Bellendoff sorted that fucker out years ago with his "give us your fucking money" rant yet here the Ethiopian cunt is trying to get to England and bleating because the Frenchies are flattening his hovel. Time for another stadium gig on reinforced stage with the fat cunts Adele Asmell and Lilly Mong headlining.
But….this is not the point of the cunting. That fucker on the Grauniad's front page is not fuckin 16. Don't insult my intelligence. It looks like a photoshopped Frank Bruno doing a bit of crisis acting on the side. You could plant crops in the creased furrows on his brow and feed the fucking world (are you listening Nob Goboff?). My brow's just about that creased in me fuckin 60s.
I doubt the lying cunt is Ethiopian either, he don't look like one, or Somalian; Nigerian maybe. So wherever he's from he should fuck off back there, invest himself in his own country to its betterment and not head here expecting a free handout.
The Guardian is a complete cunt for passing on the lie of a parasitic cunt who's a migrant, not a fucking refugee. Cunts.
Nominated by: Alan Fistula