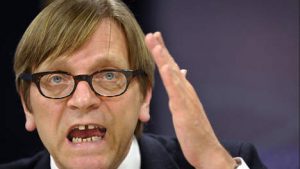 Give a man a gun and he can rob a bank.
Give a man a bank and he can rob the world!
—-
Brexit, the go to excuse for any negative financial, legal and social incident. Happily spun by the beeb and their meejah-mates, when the reality is that fuck all has changed, the economy has stabilised, the workforce is doing well, and Juncker and his cronies are bricking it.
Actual quote from Belgian MEP Guy Verhofstadt (EU lead negotiator on brexit): "…the EU still offers the cure for the cancer of nationalism."
I'm British, proud to be so, so fuck you very much, you EU cunts!
Nominated by: Rebel without a Cunt!