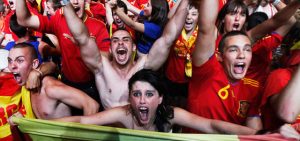 Football fans who refer to their club as "we"
We'll challenge for the title, that was the year we did the double, we were unlucky there….
Fuck off with the we, you did fuck all and probably watched 99 percent of that success from your living room on Sky Sports.
Nominated by: Mr Cuntypants
Football fans in general are cunts. They buy overpriced club shirts, bore the tits off anyone stupid enough to listen while they talk about the latest wog that their club has spunked millions of pounds on,witter on about players as if they were "mates" with the cunts, hence the Giggsy, Scholesy, Becks etc. crap,get shit tattooes,and worst of all,give a platform for those cunts Lineker, Shearer and Ian Wright to spout their utter tomcuntery.
Rugby,cricket and horse racing are the only sports worth following.
Nominated by: Dick Fiddler