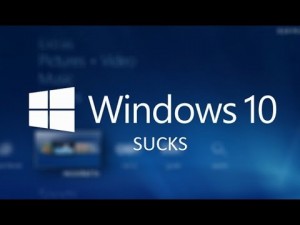 Windows 10 needs to fuck off.
Completely ruined practically every piece of software I have, including a game on Football Manager 2011 which saw me dominating Europe in the year 2197. (Yes, I really have played the game that much…….I am a sad cunt.)
Nominated by: Cunt O'MaCunto

Windows 10 is FUCKING SHITE, I sandboxed that on a win7 VM machine and it was the biggest load of shite I have ever seen.
If you disable all the tracking and spyware it automatically turns itself back on, so much for any type of privacy,
It has fucking adverts targeted at you on the homescreen, sells all your info to advertisers (every thing you type on the pc is tracked, file searches, text documents, web searches etc, so they can target you with these ads. It tries to make you buy any software you need via the app store and adds fucking in app purchasing games you cannot disable.
It caches every file on your system and syncs with Microsoft. It even tried to inject a System BIOS tracking facility which means even if you format your computer it is still there tracking you, the ultimate trojan backdoor.
Windows 10, bought to you by Microsoft & the CIA
FUCKING CUNTS
Nominated by: Boaby

( written on my MacBook Pro running OSX10.11.4 Ed )