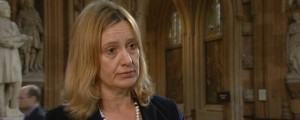 Amber Rudd (Secretary of State for Energy and Climate Change) is a cunt.
The woman is a 5th columnist from J.P. Morgan, acting for vulture capitalists to destroy the UKs native infrastructure to make sure the globalist 1%ers maximize profits on fuel, energy and even the air we breath.
The cunt is closing all our coal-fired power stations (that used to burn our own coal – we have at least 4000 million tonnes ion reserves – but presently import coal because the Lib/Lab/Tory party has closed all the mines out of hatred for miners and for under the table cash from foreign coal exporters), and has dictated imported gas has to be used to generate electricity in place of all the coal-fired power stations, by 2025.
Coal provides 30% of the UKs energy needs and there are over 30 coal-fired power generation stations still in operation. Dozens of gas-fired power stations will need to built to make up the shortfall in supply (obviously, given the filth we have in parliament, by foreign companies awarded ludicrously generous contract with zero risk and obscene profits guaranteed for the next 50 years, by venal MPs.
The fucking irony is that treated emissions (scrubbed smoke etc.) from a coal-powered power station have less 'greenhouse' gasses than a gas-powered power station.
So expect a kilowatt of electricity to be £5 by 2025 (with a surcharge of £10 for carbon trading and to subsidize fuel bills for the rich).
I wouldn't be surprised if Amber Rudd sold the air we breath to J. P. Morgan so it could charge us all 50p a lung full.
Nominated by: Delroy