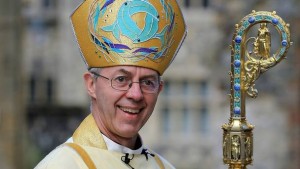 Arch-Druid Justin Welby is a cunt.
There are so many reasons one could choose to call this cunt a cunt. However I am NOT calling him a cunt because he:
1/ walks around in a dress;
2/ thinks we should base our morality on a book of Bronze Age myths where animals talk, "god" kills you for wanking, the sun can stop in the sky without the Earth falling out of its orbit and virgins give birth to godmen who can come back to life;
3/ presumes to lecture the government about poverty whilst living in a palace.
And NOT because:
4/ he is a fucking brain-dead Islamophile who wants to fill up an already overcrowded island with people fleeing a sectarian civil war caused by people like him arguing about who has the best imaginary friend.
No, the reason I am nominating the Arch-Druid is because of his opposition to euthanasia. My late grandmother suffered an unnecessarily prolonged death ten years ago and now my wife's grandfather is suffering the same. And why? Because cunts like Welby say their imaginary fucking friend says euthanasia is a sin.
Putting an animal down when it is suffering is considered an act of compassion. But allowing a person to suffer an agonising death is fine because … (cue grasshoppers).
Fuck you Welby. Fuck you and all your brain-dead, retarded, holier-than-thou followers. And fuck your imaginary friend too. And fuck all the imaginary friends whose followers have caused nothing but misery for fucking centuries.
Nominated by: Cunt's Mate Cunt